Bosch develops sustainable sealed paper packaging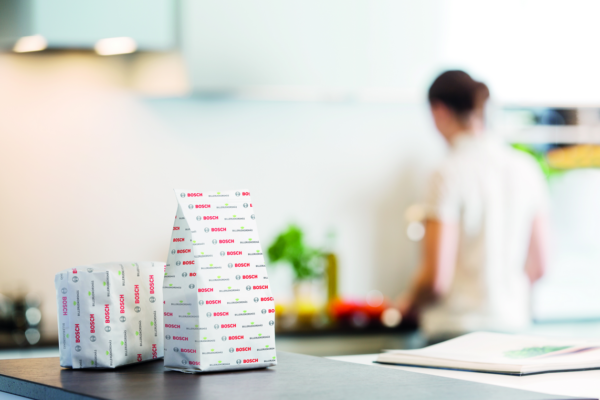 Bosch Packaging Technology has joined forces with BillerudKorsnäs to develop what it claims is the world's first sealed paper packaging for dry food products.
Instead of using polymer film, it enables production of dust tight packaging for dry products such as sugar, grains, flour or powders using sustainable mono-material paper, which contains no additional polymer fractions.
The paper packaging is produced on the first vertical form, fill and seal machine (VFFS) with the so called ZAP-Module. The module allows coating with the sealing agent on a minimal surface area, preserving the paper's mono-material character.
The unit combines the PME machine concept from Bosch with the Axello ZAP paper from Swedish paper specialist BillerudKorsnäs.
"This revolutionary concept would not have been implemented without the collaborative effort of both companies," says Joachim Dittrich, head of the liquid food product division at Bosch Packaging Technology and responsible for the VFFS ZAP portfolio. "Together we have developed a solution that will change the packaging market."
 Compared to conventional paper, Axello ZAP is said to be more durable, while retaining its natural paper characteristics and advantages from source to recycling.
"The combination of the strength, flexibility and stiffness of Axello ZAP paper fits perfectly with Bosch's technology," explains Ole Paulussen, sales director at BillerudKorsnäs.
The machine allows versatile packaging styles, including pillow, gusseted and block bottom bags with gable or flat top closure.
"We are positive that our solution, supported by several years of development, not only addresses today's challenges for our customers, but also gives them the possibility to enter completely new markets and areas of application using sustainable packaging," notes Marcus Velezmoro, responsible for sales of VFFS ZAP at Bosch Packaging Technology.
Related content