Flexible packaging systems make their mark in confectionery sector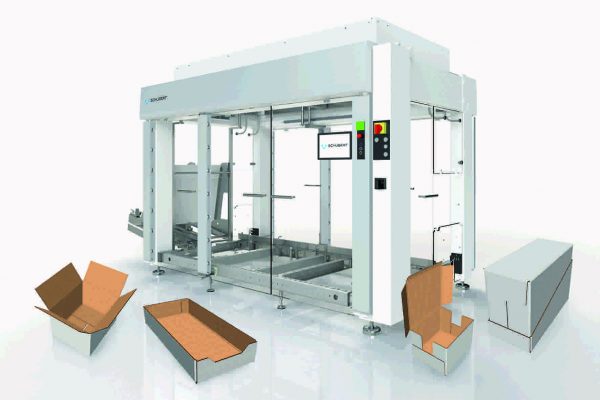 Designing flexible packaging systems for the confectionery sector requires considerable investment and development time. Confectionery Production examines several of the latest releases
For this year's ProSweets in Cologne, Schubert presented its lightline Flowpacker equipped with its latest heat sealing technology.
The system has been especially developed for delicate products such as chocolate can be packaged gently while still maintaining the highest level of performance.
Schubert's Flowpacker is part of the new lightline machine series with which the company is offering its customers three competitively priced, preconfigured machines to take on standard packaging tasks. Additionally, Schubert Packaging Systems also presented its portfolio of engineering solutions and services.
As the company noted, whether chocolate pralines, chocolate bars or wafers – consumers purchase many of these confectionery products in flow-wrap bags.
With the lightline Flowpacker, Schubert is offering a preconfigured packaging machine – consisting of the Flowmodul flow-wrapping component and a picker line – which packages unpacked or trayed products into flowpacks in an efficient and product-friendly manner.
The Flowmodul is compatible with all commonly used hot and cold sealing films and delivers maximum flexibility in terms of product mix. Using robotic technology, even extremely fragile crackers or biscuits can be stacked in any conceivable variant and packaged into flowpacks.
For packaging heat-sensitive products such as chocolate, for example, Gerhard Schubert has expanded its Flowmodul flow-wrapping component with a new sealing technology: the new patented heat sealing technology is characterised by very low heat development as well as a constant sealing time at variable chain speed. For the first time ever, the adjustment range of a heat-sealing film can be controlled between 5 and 60 metres – without any loss of quality for the film or the product. Even hermetically sealed packages are possible with this technology.
The Flowpacker shown at the booth is part of the new Schubert lightline machine series which comprises three packaging machines for standard packaging tasks. The series also includes the lightline Cartonpacker for packaging products into cartons and the lightline Pickerline for pick & place applications. A key benefit is that these very compact and efficient systems are characterised by attractive investment costs and very short delivery times. Customers can now choose between preconfigured machines from the new lightline product family with defined product and packaging formats and the freely configurable machines with comprehensive degrees of freedom tailored to individual requirements.
Fair exhibition machine packs 250 biscuits per minute
Schubert's lightline Flowpacker will process mixed packages with two different, heat-sensitive products. A biscuit with white chocolate and one with brown chocolate will be packaged together in a flow-wrap bag. The machine achieves an output of 250 products or 125 flowpacks per minute. The Flowpacker features a 3D image processing system which ensures that only flawless products enter the infeed chain.
Whether delicate chocolates, soft cakes or chocolate bars – the family-owned company from Crailsheim develops customised robotic tools for all products. Thanks to the TLM technology's modular design, these tools can be adapted to meet changing requirements such as new product or packaging formats – easily and cost-effectively. If the product or format changes, only the robot tools need to be adjusted or replaced. For the development and manufacturing of these tools, Schubert draws on its many years of expertise in the design and functionality of grippers and suction cups.
Pack development
As demand for stand-up packs continues unabated in the western world, Ilapak has conceived an innovative bagger that can easily meet customer marketing expectations whilst maximising product shelf-life.
The VT 2000 OF (Open Frame) has the highest seal pressure of any bagger available on the market today. This translates to tight seals and maximum seal integrity on the gusseted bags that are becoming increasingly popular among producers of sweet treats and snacks.
"While stand-up pouches improve a pack's structural integrity, they introduce a variation in thickness in the seal area that makes them more complex to seal and more susceptible to leaks. The high seal pressure applied by our sealing system guarantees seal integrity on not only gusseted bags, but other vertical styles such as pillow, block bottom and quad packs," says Andrea Boccolini, VFFS Division Product Manager at ILAPAK.
For bakeries looking for a high level of flexibility from their bagmaker, the VT 2000 OF can switch between these different bag styles in a matter of minutes, with easy and tool-free changeovers.
In addition to the VT 2000 OF's flexibility, bakery industry customers love the bagger's accessible open frame design, as this enables fast servicing, maintenance and cleaning. Furthermore, full stainless steel construction with specially treated aluminium parts means this rugged bagger can withstand even the most aggressive cleaning regimes.
Upgraded system
Another business that has been prominent with wrapping and packaging releases is German-based Loesch.
Speaking recently to Confectionery Production, Dr Thomas Cord, managing director, explained the business has enjoyed a strong response to its present lines.
He confirmed one of its biggest areas of focus is the RCB-HS wrapping head machine for hermetically sealing chocolate, in addition to the firm's LTM-Duo die-fold system handling smaller confectionery items.
On the RCB-HS equipment line, he said that customers had offered valuable feedback on initial prototype versions, that have now been enhanced even further.
Dr Cord said: "This past year has been a very successful one for Loesch, having set our focus on serving the packaging and wrapping markets. I think the achievements we have made have been down to several areas, including continuing to maintain our share with around 70% of our sales coming from larger projects based on primary and secondary packaging and carton machinery. As a result we have become a one-stop-shop for customers," explained the director.
He explained that its latest R series had been developed directly in response to growing demand for hermetically sealing packaging systems that offer products maximum protection and aid with keeping them as fresh as possible.
Related content