ABICAB president projects positive outlook for Brazilian confectionery market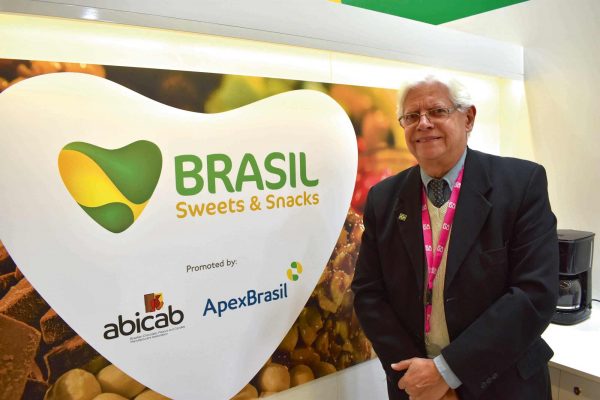 Ubiracy Fonsêca, president of ABICAB, the Brazilian Chocolate, Peanuts and Candies Industry Association, has projected a positive outlook for 2019's national confectionery market. Neill Barston meets him at ISM to discuss the fast-growing confectionery sector
With a dynamic range of Brazilian companies showcasing their latest products at this year's ISM, the sector is experiencing a period of renewed growth.
As Ubiracy Fonsêca explains, there has been a sense of resilience within his country's confectionery sector, and it is something that he has relished being involved with.
While the country has faced its share of broader economic challenges, he says there is cause for optimism within the confectionery market, with a number of businesses performing well domestically, as well as within export markets.
"I am very honoured to have been president of ABICAB for the past two and a half years, as I believe the organisation has bene doing some very valuable work for its members.
"We've have been working with a number of agencies to promote our industry, and I have found my post very rewarding to see the progress that's been made in modernising our sector," says the president, who believes that close co-operation with government organisations has had a positive impact on the industry.
Indeed, this has been reflected by the fact that 2018 saw confectionery sales to overseas markets grow year-on-year 40% in volume and 37.5% in value.
In addition, as we have previously featured, Brazilian companies have also shown faith in the sector with the industry, as a total of $630 million has been spent on improving factories and facilities within the industry over the past five years.
Fonsêca continues: "Confectionery companies' investments in new lines, innovation, traceability, and healthier products (much demanded by today's consumer) enabled a higher sophistication of Brazilian products and thus new consumers were reached in new markets and in those where we are traditionally present.
"The industry is also benefiting from the rebirth of quality cocoa production, which is done sustainably, protecting our forests," adds the president, who says it is these combined factors that enabled Brazilian companies will bring to ISM 2019 a portfolio of sophisticated and quality products to the event.
On this year's exhibitors at ISM in Cologne, he adds that there has been an especially strong showing from a number of emerging and well-established companies.
He adds: "I believe the confectionery sector in Brazil has huge potential as all the big players in the industry are involved with our country. There are around 220 million people in Brazil, but their confectionery consumption per capita is only presently around 2.4kg per, so I think there is indeed potential for this to grow.
"In fact, consumption last year was slightly higher, but because of the economic crisis, it has dropped, but there are signs that this is now recovering.
"For the remainder of 2019, the outlook for the market is positive, which is being driven by a number of innovative companies, and I believe it will be a period of continued growth for the industry."
Related content