Chocolate producers set out plan to end deforestation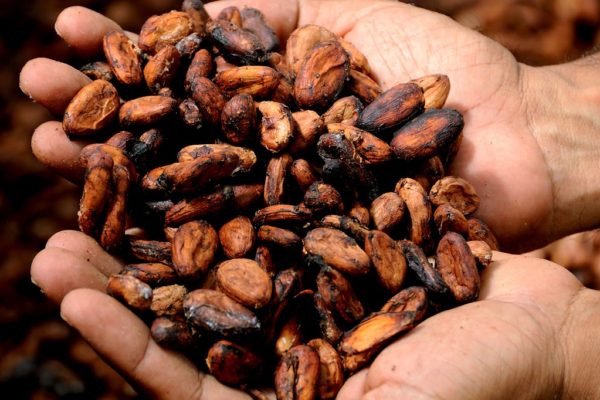 Top cocoa-producing countries Côte d'Ivoire and Ghana and chocolate and cocoa giants have announced Frameworks for Action to end deforestation and restore forest areas.
At the UN Climate Change Conference (COP23), the companies and governments pledged to eliminate illegal cocoa production in national parks, in line with stronger enforcement of national forest policies and development of alternative livelihoods for affected farmers. Central to the Frameworks is a commitment to no further conversion of any forest land for cocoa production.
Combined, Côte d'Ivoire and Ghana produce nearly two-thirds of the world's annual supply of cocoa, the main ingredient in chocolate and a range of other consumer products. Both countries have announced plans to introduce a differentiated approach for improved management of forest reserves, based on the level of degradation of the forests. Up to date maps on forest cover and land use, as well as socio economic data on cocoa farmers and their communities will be developed and publicly shared by the governments.
The chocolate and cocoa industry have agreed to put in place verifiable monitoring systems for traceability from farm to the first purchase point for their own purchases of cocoa, and will work with the governments of Côte d'Ivoire and Ghana to ensure an effective national framework for traceability for all traders in the supply chain.
The companies that have so far committed to the Framework include Barry Callebaut; Blommer Chocolate Company; Cargill Cocoa and Chocolate; CEMOI; Cococo Chocolatiers; ECOM Group; Ferrero; General Mills; Godiva Chocolatier; Guittard Chocolate Company; The Hershey Company; Mars Wrigley Confectionary; Meiji Co; Mondelēz International; Nestlé; Olam Cocoa; Sainsbury's; Toms Group; Touton; Tree Global; and J.H. Whittaker & Sons.
The two governments and companies have agreed through the Frameworks to accelerate investment in long-term sustainable production of cocoa, with an emphasis on growing more cocoa on less land. Key actions include provision of improved planting materials, training in good agricultural practices, and development and capacity-building of farmers' organisations.
Sustainable livelihoods and income diversification for cocoa farmers will be accelerated through food crop diversification, agricultural inter-cropping, development of mixed agro-forestry systems, and other income generating activities designed to boost and diversify household income while protecting forests.
The governments and companies, which represent over 80% of global cocoa usage, commit to full and effective consultation and participation of cocoa farmers in the process, and promotion of community-based management models for forest protection and restoration. The governments will assess and mitigate the social impacts and risks of any proposed land-use changes on affected communities, and ensure provision of alternative livelihoods and restoration of standard of living of affected communities as needed.
The governments and companies have also committed to a comprehensive monitoring process, including a satellite-based monitoring system to track progress on the overall deforestation target, and annual publicly disclosed reporting on progress and outcomes related to the specific actions in each Framework.
The move comes after an investigation into the cocoa industry in Ivory Coast and Ghana by Mighty Earth found that cocoa production is driving deforestation and environmental destruction, including inside protected areas such as national parks and in some of the last chimpanzee and forest elephant habitat in West Africa.
Mighty Earth Africa director Etelle Higonnet notes, "These good intentions must now translate into real action on the ground on a rapid timeline. In particular, the highly profitable companies that have sourced cocoa from national parks and protected areas for years need to make a sizeable financial contribution to restoring these precious areas. This is a $100 billion a year industry and the cost per company of doing the right thing would be a small fraction of a percent of their annual revenue. We'll be watching to make sure this happens."
"As an immediate next step, the chocolate industry must announce that it will extend its commitment to No Deforestation Cocoa to chocolate production around the world. It's great that the industry is taking steps to protect chimpanzee habitat in Ivory Coast, but that doesn't mean anyone wants to eat a chocolate bar that killed an orangutan in Indonesia or a sloth in Peru."
Click here to view the Ghana CFI Framework and here for the CDI Framework.
Related content