York Cocoa House completes chocolate production facilities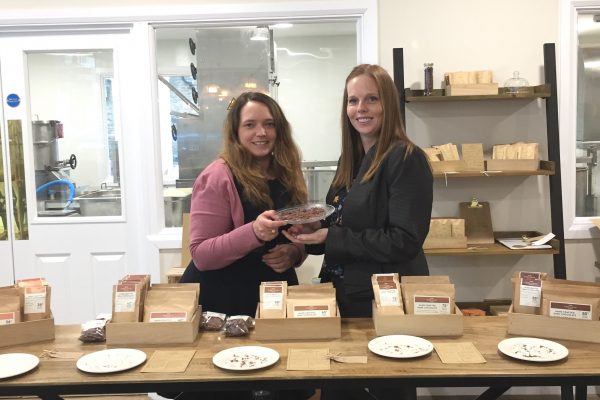 Fast-rising UK chocolatier, York Cocoa House, has completed a new manufacturing facility developed to increase its production capacity.
The business, founded in 2011, said it is aiming to produce 200 tonnes of chocolate each year through its expanded facilities that include a chocolate factory, shop, café and Cocoa Academy, handling up to 50 tonnes of cocoa. The new facility will also host educational activities, professional chocolate training and chocolate factory tasting tours.
According to the York-based company, its increased volume of production will allow it to expand further into the business-to-business market, growing its brand, with an aim is to produce a  turnover of £1.5 million by 2020, and increase its team by 10 people.
As the business explained, it has benefitted from crowdfunding, development growth grants from the Leeds City Region and the University of York, and asset finance from Academy Leasing to fund its growth to date. Academy Leasing recently funded the purchase of a bespoke chocolate manufacturing machine designed specifically to support small-scale craftsmanship – the latest in a series of asset loans Academy has arranged with the business.
Sophie Jewett, founder and managing director of York Cocoa House, said the support from Academy had proved invaluable in terms of not only providing financial support, but enabling the company to take its full business plan forward.
She said: "York Cocoa House is known for its artisan craftsmanship when it comes to chocolate and I'm proud to be supporting the city's reputation for chocolate-making. I've had big ambitions for the business since day one and to now have the ability to produce hundreds of tonnes of chocolate right here in York, thanks to Academy Leasing, is very exciting."
Angela Werner, from Academy Leasing, added that the company's plans had shown strong potential. She said: "We have worked together for six years, with Academy providing finance for a number of pieces of equipment in that time. Earlier this year, Sophie presented her plan for the new factory – it was clear to see that this is an exceptional business with a bright future so we had no problems in arranging support to open the new facility."
Related content