Confectionery and snacks brands gain strong representation at IFE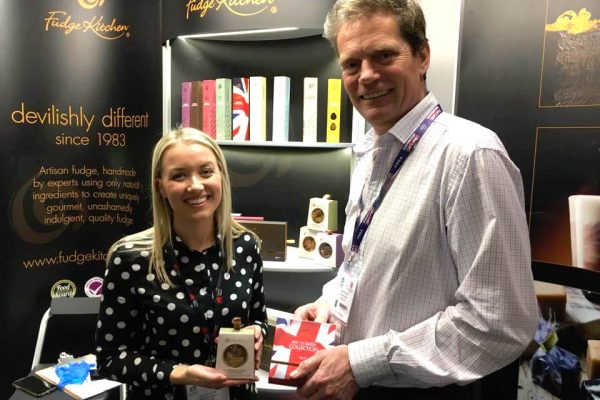 A broad range of confectionery and snacks businesses were represented with new product releases at this year's International Food and Drink Event (IFE), held at London's Excel centre in the UK.
The event attracted a total of 27,000 visitors from across sectors, including confectionery and snacks businesses.
In total, there were more than 1,350 brand new international food and drink brands exhibiting their latest product innovations; which included everything from protein-enhanced chocolate ranges through to popped lotus seed snacks.
Among the confectionery brands present at the event were Montrose Chocolate Ventures (which claimed an innovation award for its Benefit Chocolate brand), Love Cocoa, created by James Cadbury, great-great-great grandson of the founder of Cadbury chocolate, Fudge Kitchen (pictured), and York Cocoa House, all displaying their latest ranges.
Soraya Gadelrab, event director, said: "As one of the biggest international food & drink events, IFE has to live up to high expectations and this year certainly delivered! Every event I think it can't get better and every time I'm blown away.
"The 2019 event was truly the best yet with boundary-pushing products being introduced to the market from a wide-range of innovative exhibitors; thought-provoking and insight-driven debates and presentations; and lots of ongoing and beneficial business partnerships made. It's left a long-lasting impression on the industry."
The implications of Brexit on the sector, and importing and exporting in particular, was the hot topic. Leading figures such as Sandra Sullivan from the Food & Drink Exporters Association, and Ian Wright from the Food & Drink Federation, debated the key issues, with the message to the sector focused on the need to protect the diversity, quality and range of food and drink produced in the UK.
The theme of sustainability was also high on the agenda, with over half of food and drink companies citing their reduced reliance on single-use plastic and making packaging more sustainable as the biggest sustainability challenges facing their business. Experts from WRAP, Defra, The Packaging Collective and the Soil Association took part in the Big Debate panels which highlighted the need to educate consumers from a young age on the environmental impact of food waste and ways to tackle this pressing issue. See a full event revue in our next edition of Confectionery Production.
Related content