Cargill opens renewable energy facility in Ghana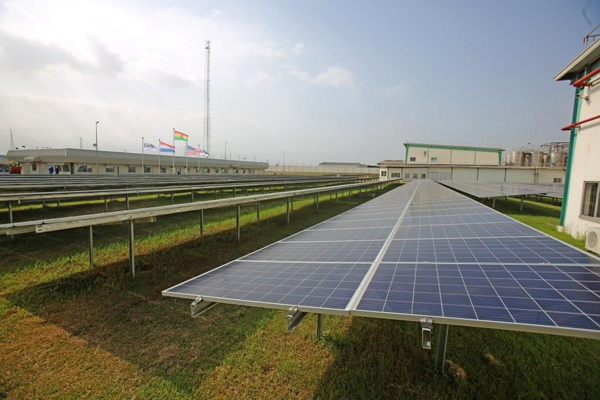 Cargill has opened its new solar power facility at its cocoa and chocolate site in Tema, Ghana.
The new solar plant is a fully automated, digital photovoltaic solar system. It augments energy needs at the site and boosts Ghana's renewable energy portfolio by producing 764MWh of electricity annually. The solar energy produced at the plant is said to be equivalent to powering nearly 400 homes with electricity for a year.
In total, 2,136 solar panels were used, each with a capacity of 265Wp. The installation's peak power generation period is between 11am and 3pm, during which period 15% of Tema's electricity needs will be supplied by the solar panels.
Pieter Reichert, managing director of Cargill Cocoa and Chocolate in Ghana, says, "Cargill sets ambitious targets every five years to reduce greenhouse gas intensity, improve energy efficiency and increase renewables as a part of our portfolio.
"One of those targets is to increase renewables to 18% of our global energy portfolio by 2020. Today, 14% of our energy needs are met by renewables, and this solar project will help us realise our 2020 goal."
Other recent projects include the installation of LED lighting, an energy-efficient grinding facility and a biomass boiler. Collectively, all four projects at the Tema sites have resulted in a 32% decrease in energy consumption, a 71% reduction of CO2 emissions and 66% renewable energy generation, Cargill says.
Thanks to collaboration with the Ghanaian authorities, including President Nana Addo Dankwa Akufo-Addo who commissioned the facility, the plant allows Cargill to support Ghana's commitment to strengthening industrial production in the cocoa sector through a sustainable and energy-efficient investment.
Ghana's minister for energy, Hon. Boakye Agyarko Kyeremanteng, notes, "The government is committed to increasing the nation's renewable energy generation capacity and is hopeful that others in the Ghanaian cocoa industry will follow Cargill's lead."
Related content